About Professor Michael Lehmann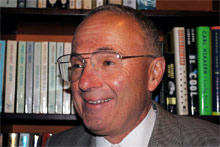 Professor Lehmann obtained his Ph.D. from Cornell University and has taught for 44 years in traditional and on-line venues at the University of San Francisco. He is the author of The Irwin Guide To Using The Wall Street Journal, which sold 250,000 copies in seven editions. Prof. Lehmann also developed a popular seminar, Be Your Own Economist®, on business and investment conditions that he offers to investors, corporations and professional groups. The San Francisco media frequently interview Prof. Lehmann on current economic events. Now you, too, can take advantage of Prof. Lehmann's proven skills.
Contact Prof. Lehmann directly at 415-564-4252 or lehmannm@usfca.edu for in-person seminars and training.